I am used for no-condom anal fuckings.

I am based in the USA and travel worldwide to work as an
independent sexworker and I am available to be used by PIMPS
and SEX PROMOTERS of all types and in BROTHELS and SEX CLUBS
taking on any number of customers day and night.

I also enjoy to give suck and swallow and anal rimming
to all and to bottom for k9inky taboo sex acts and
exhibitions.

See my other bareback whore websites:

http://gaybarebackescort.escortbook.com

http://barebackmichael.jouwescort.nl


Sucking out a truckdriver's sperm load in a motel:
My blowjob whoreblog: http://cumthirsty.blogspot.com



Posing to show off my strong body and large anus. I am proud of the size of my anus because it was made by many thousands of fuckings by satisfied customers.



Working the streets as a bareback tranny whore:
Note my short skirt to attract customers to fuck my smooth White ass.
I loved to be bareback fucked right on the streets and feel the warm
sperm run out my anus and flow down my legs
See my suck and swallow blog: http://cumthirsty.blogspot.com
Sucking off a customer out at the highway reststop
I was gobbling down his load just as he snapped the photo
Please let me lick and slurp your butthole with my long strong thick tireless tongue.
About to take a long hard cock plunged deep up my ass
a few years ago by one of my regular customers who
enjoyed to "rape-fuck" me (as he called it)
Please visit these links below to pimp up my anus :-)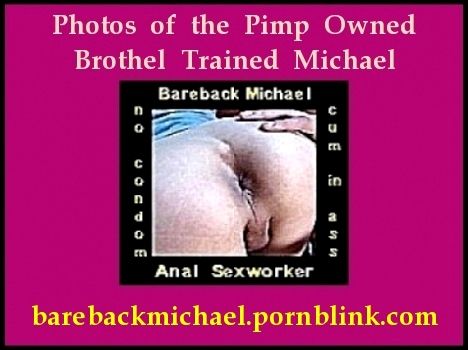 Directorio Erotico.
Webs, comercios y profesionales eroticos
Escort Independientes
If you wish to contact whore Michael,
use this email address: bbackmichael@yahoo.com